You Don't Have To Be a Hero
During this Global Pandemic many jokes have been made using dystopian and apocalyptic books and movies, like Hunger Games and living in the Thunderdome.  It made me think of the theme song from Mad Max: Beyond the Thunderdome. 
"We don't need another hero
We don't need to know the way home
All we want is life beyond the Thunderdome"
They all just wanted a life without the struggles of survival.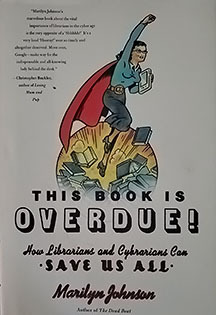 Librarians have taken on the mantle of Superhero in the last couple of decades. There are T-shirts, comics, pins, even ribbons at conferences depicting librarians as flying in, to the rescue!  In 2010 Marilyn Johnson's book, This Book is Overdue: How Librarians and Cybrarians Can Save Us All, was published by HarperCollins with a cape-wearing librarian flying to the rescue.  Last year the Nancy Pearl Librarian action figure got an upgrade to a full-on superhero with When an age of darkness comes a hero must rise! printed in bold letters on the packaging.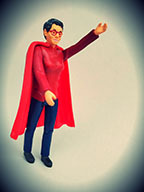 Lately, we have all been struggling to be superheroes in a true age of darkness.  Libraries are shuttered, schools are closed, we are sheltered in our homes.  Librarians are struggling with how to be a superhero in their community when they don't have a place to be, let alone capes and superpowers.  Libraries have advocated as essential services.  Libraries are community centers where we go when there is a crisis.  Now what do we do?  The worst thing a library can be right now is a gathering place. Yet the pressure to succeed and be what the community needs is still there.  Many librarians are grappling with how to be innovative and dynamic in a pandemic.
Have we lost our capes?
Well, what is a hero? A hero is a person who is admired or idealized for courage, outstanding achievements, or noble qualities.
What is more courageous than making a hard decision to keep your community safe? What is a more outstanding achievement than having your community still want the library to be open in their time of need? What is nobler than caring enough about your community and fellow staff members to keep them safe in a pandemic?
Yes, we all could have been more prepared; however, we don't really have a TARDIS, and no matter how awesome we are (or how often we dress like him/her) we are not The Doctor, so we lack the ability to travel through time to see what the future might bring.  In the best of times it is hard for a lot of people to just get through the day under normal circumstances.  These are not normal circumstances.  There is no contest to see who can be the best library in a pandemic. 
So, pack away the cape and just keep being the awesome, courageous, outstanding, and caring movers and shakers that you are. You don't have to be a hero.  You already are one.   #youbeyou2020  #thankyoulibrarians  #thankyouteachers
Melissa Powell, MLIS
Customer Success Manager
Melissa Powell, MLIS
Customer Success Manager
TLC • The Library Corporation 
mpowell@tlcdelivers.com